Ralph Miarka and Veronika Jungwirth
Forewords by Diana Larsen and Mark McKergow
Publication date 21 October 2021, in paperback and Kindle formats.

ISBN 978-0993346347. 292pp

Paperback £28.99. Also available in Kindle format.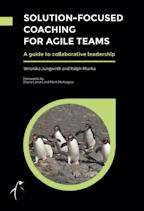 Helping teams and leaders work together in fast-moving and challenging situations
Would you like to work better in an agile way?

Would you like to achieve benefits such as flexibility, productivity and adaptability?

Do you want practical, tried-and-tested, simple yet effective ways to build all of that, as a leader, Scrum Master, project manager or (Agile) coach?
Veronika Jungwirth and Ralph Miarka have years of experience with helping teams work agile, and agile teams work better. In this book they offer an accessible, detailed and practical guide to approaches, methods and techniques to help teams of all levels work more collaboratively and effectively. They combine the laser-sharp practice of solution-focused coaching with experience of agile environments to produce a winning combination of fresh angles on everyday situations. This book will be both a great starting point and a continuing reference source for teams, leaders and team coaches alike.
"Highly practical. You'll find new ideas and applications about guiding and encouraging teams. You'll also find insights and recommendations for working with team members and leaders as individuals. You'll learn about handling team conflict and designing meetings. I predict this book will become one of those critical few resources that every coach recommends to their peers."
Diana Larsen, co-author of Liftoff: Start and Sustain Successful Agile Teams
"What got us to where we are won't get us to where we are going. So how do we, as leaders, grow and coach effective teams? We need guides! Veronkia Kotrba and Ralph Miarka are two of the best. In Solution-Focused Coaching for Agile Teams, they share the wisdom they've gained over years of coaching in many different settings. The practical guidance they provide within these pages will make this one of the most referenced books in your library. Buy it and read it. Read it again. And again. Your professional and personal life will improve as a result."
Richard Sheridan, CEO and Chief Storyteller, Menlo Innovations, author, Joy,Inc. - How We Built a Workplace People Love
"This book is pragmatic, full of useful approaches and techniques to help with coaching Agile teams - a valuable asset for anyone using or wishing to use Solution Focus as a team coaching or individual coaching resource. I highly recommend it."
John Brooker, author of Jump Now: Lead Solution Focus Collaboration to Accelerate Sustainable Results
"Leaders and project managers will get a very comprehensible impression of what agile principles and methods mean and how they work. For consultants and coaches, the book is a backup for their methodological toolbox. Anyone who wants to form or train agile teams will find here one of the best manuals currently available."
Berliner Morgenpost
"Veronika Kotrba and Ralph Miarka are your ideal guides for combining Solution-Focused and Agile, two effective, pragmatic and iterative practices, into a powerful overall way not just to do work but to do it as well as possible in the most challenging of circumstances."
Dr Mark McKergow, author of The Next Generation of Solution Focused Practice
About the Authors

Veronika Jungwirth MC has been working independently and enthusiastically since 2006 as a coach, trainer in solution-focused coaching and leadership, facilitator of team-building processes and as a consultant and facilitator of change processes in various industries. In doing so, she integrates her experience gained in her years as a teacher, as a point of sales trainer in a large corporation and in her coaching practice. She is co-founder of the Austrian Solution Circle. She is also involved in the field of Potential-Focused Education, where she trains leaders from schools and kindergartens and helps teams in their work processes.

Dr Ralph Miarka MSc works as an independent coach, consultant and trainer. He has been leading companies and their teams to a successful agile way of working for years. Previously, he worked for Siemens AG Austria as project manager, project consultant and department head in the support centre for project management. In his own projects he was able to convince himself and his customers of the advantages of agile working. Ralph is a trained business coach with a master's degree. He is thrilled to observe how a group of people changes into a team wanting to achieve a common goal. Ralph also enjoys sharing his knowledge and experience with others at conferences, workshops and training sessions.
Together they live in Vienna. As sinnvollFÜHREN they act under the sign of the penguin and want to support people in fulfilling their leadership work with ease and more effectiveness. Since 2012 they have been carrying the solution-focused approach into the agile community. They have appeared as speakers and workshop facilitators at numerous conferences and Agile Coach Camps. In addition, they have been and continue to be actively involved in the organisation of XP 2013, EBTA 2015, Agile Coach Camps Austria 2014-2020, the Agile Tour Vienna 2011-2020 and the Host Leadership Gathering 2021 as well as the SOLworld Conference 2021.