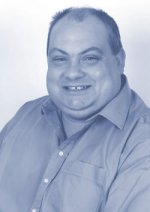 Mark is much in demand as a speaker, facilitator and trainer. He has appeared all over the world, including in Canada, the USA, New Zealand, Australia, Singapore, the Netherlands, Austria and Sweden.
Mark started his career as a nuclear physicist - really! He has a PhD and worked at the world's first commercial nuclear power station (Berkeley, UK) before and after it finally shut down in 1989. He then moved to strategic planning, business planning and HR development.
Mark is a talented musician. He plays saxophone and clarinet, formed and ran the modern jazz orchestra UltraSound with backing from the Arts Council, and appeared at diverse venues including London's South Bank Centre and Glastonbury Festival. UltraSound recorded 2 CDs - to read a review of them click here, to see them on Youtube click here, here or here. He also composes and arranges music, including the five part 'New York Suite' for jazz group, premiered in 1991, and found himself sharing stages with various Bristol jazzers including Portishead guitarist Adrian Utley, bass virtuoso Arnie Somogyi and Goldfrapp's Will Gregory. These days he writes CD and concert reviews for London Jazz News - over 70 columns so far. Click here to see a list of them.
Mark's MBA with the Open University (1990 - 1992) featured options in strategy, creativity & innovation, HR strategy and finance. His project was on the application of multisensory learning experiences in the corporate environment.
Mark is a prize-winning performance poet. He won the Swindon Poetry Slam in 2002, and writes and competes in poetry slams (contests) across the south of England.
As a scientist, Mark published several papers in respected journals on hydrogen/metal systems in the mid 1980s. He carried out research in Denmark, France and the UK.
Mark spent his gap year (1978) working at (and later duty-managing) a 144-bed homeless mens hostel in Bristol.
Mark can't draw. But that didn't stop him illustrating his book 'The Solutions Focus' with graphics and diagrams.
Mark was Deputy Leader of the 'Cheltenham SIM-phone-ya', the world's first exclusively mobile phone orchestra who performed Simon Turner's 'New Ring Cycle' at the Cheltenham Music Festival in 2002. The Leader's role is to ensure that the phones are all in tune. Whereas conventional orchestra tune to an A, mobile phones tune to a 7. The SIM-phone-ya featured on worldwide TV, including BBC News and NBC.
Mark walked the Pennine Way (all 272 miles of it) as a student. He and his partner Alan Piesse carried their tent and all their equipment, including 48 man-days of food. There's no point in risking going hungry, is there?
Mark was a qualified motor racing marshal for a while in the late 1980s. He avoided being run over by Damon Hill, Mika Hakkinen and David Coulthard amongst others, while marshalling at Silverstone, Brands Hatch and Castle Combe.
Mark was the first network co-ordinator for Sunday Assembly, the 'atheist church', from 2013 - 2015. He is now Chair of Sunday Assembly Edinburgh.
Er...and he can't count either.