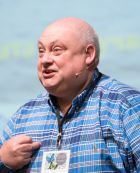 Dr Mark McKergow provides masterclasses in all aspects of using Solution Focused and Host Leadership approaches, both online and in person. He has recently visited Denmark, Germany, Austria, Singapore and Australia to give such classes, as well a virtual presentations and workshops to the United States of America, Finland, France, Sweden and within the UK.
Topics have included:
Solution-Focused Coaching
New developments in Solution-Focused practice
'Solutions Focus 2.0'
Building community with Host Leadership
Using Host Leadership in online forums/groups
Working with Complexity: Solutions Focus work with organisations
Mark can provide inputs for your team or programme ranging from a one hour session up through 90 minute, 2 hour and half day sessions, or even a full two-day workshop. Contact us to discuss how you'd like to go forward.